The Bike In The Garage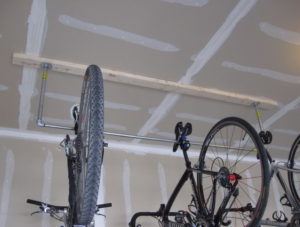 "I've got two bikes in my garage."
"Great. You should come and ride with us."
"Problem is, neither of them work."
"Maybe that's not the problem," I thought to myself. "Maybe the problem is that they're hanging in the garage. A bike only 'works' if you get it down, pump up the tires, and ride it."
I talk to lots of folks this time of year about joining the FREEDOM TOUR. Often I hear something like, "Wow, that would be amazing, I'd love to do that."
I try to be empathetic, but I want to say, "So get going and DO it!"
I know it's hard. Nobody can do it all. Work, family, all sorts of stuff competes for time and attention. That dream, that thing you want to do, whether it's a bike tour or something else…it's a commitment.
I also know for sure that we'll regret far more the things we DIDN'T do, the times we gazed through the window but never went in, than we'll regret anything we did. Lots more I wish I did… than I wish I didn't…
Bob Goff recently tweeted, "What a shame it would be if we were waiting for God to say something, while He's been waiting on us to do something."
It's never going to be the right time. Things will always be too busy.
The bike hanging in the garage will never work.